This article was posted on Apr 30 2013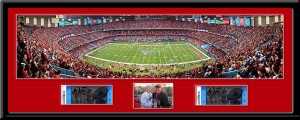 Have you attended a special sporting event and wanted to preserve the memory of being there?  Or maybe you went to a special game with someone and want to give them a remembrance from the day you spent together!
Most people take photos of themselves or their friends at the game.  Myteamprints.com is now offering to frame your photos or game tickets in with a panoramic shot of the stadium you visited!  We custom frame into the team color matting your actual tickets and/or photos you took at the game.  Simply email your jpg images to us and we will print them in 4″ x 6″ format and place them in with the professional picture of the stadium taken by one of our licensed, panoramic photographers.  Shown are a few examples of stadium panoramic prints with tickets or 4 x 6 photos in the matting below the stadium print image. What could be easier!  If you don't want to send your game tickets or simply don't have them any longer, email us up to four photos that you took at the game.  The end product is a lasting memory of possibly the greatest game you attended, a home opener, an important road win, or even a playoff, World Series and Super Bowl game!  See details and where to send your tickets.  Custom projects have included customers' season tickets of every home game.
1. Select your panoramic stadium print
2. Add the ticket framing option
3. Email us images from your camera or mail us your tickets
You will receive, ready to hang on the wall, a custom framed piece featuring YOU at the game!
Thanks for sharing your projects!  From one recent customer, "Thanks so much.  I believe you've created a family heirloom which I will give my son this Christmas with the hope that he holds on to it for a lifetime."  See more testimonials.